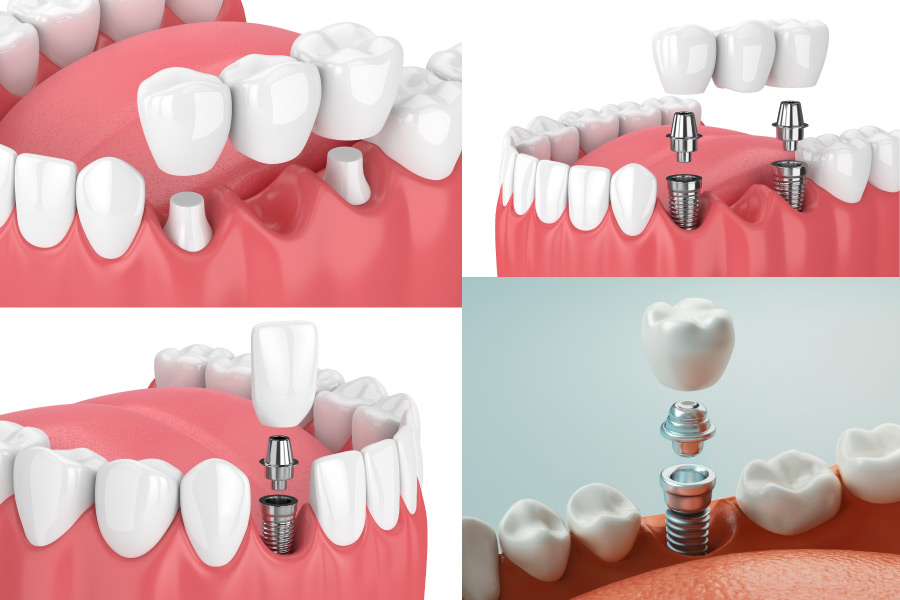 Dental Implants vs. Dental Bridges
February 27, 2021 10:08 pm |
---
If you have missing teeth, there are a couple of great solutions that can restore your smile to full function and improve its appearance. In this blog post, we'll highlight two of the restorative options we offer here at Mauka Family Dental: dental implants and dental bridges.
Dental Implants
A dental implant is a screw-like piece of titanium that is surgically implanted into the jawbone where a tooth root once was. After insertion, the area is given time to heal, during which time the implant fuses with the jawbone. This process, called osseointegration, creates a steady base for a custom restoration to be attached.
One benefit of an implant is that it feels and looks completely natural because of its firm foundation and realistic-looking restoration on top. An implant also stimulates your jawbone to prevent it from deteriorating, which could alter your facial structure.
To be a good candidate for a dental implant, you must have a strong jawbone and healthy gums. You must also commit to superb oral health habits, such as daily brushing and flossing, eating a balanced diet, avoiding tobacco products, and visiting us for routine checkups and cleanings. Otherwise, the implant has a high chance of failure.
Dental Bridges
A dental bridge is used to fill a gap left by one or more missing teeth. The bridge consists of several dental crowns that are attached together to literally bridge this gap. It can either attach to dental crowns atop neighboring natural teeth or be anchored in place with dental implants.
Restorative Dentistry in Mililani, HI
Being confident in the function and appearance of your smile can dramatically improve the quality of your life. Here at Mauka Family Dental, we can help you decide which tooth replacement solution is the right fit for your lifestyle and budget. Contact us today to schedule your consultation!
Categorised in: Restorative Dentistry