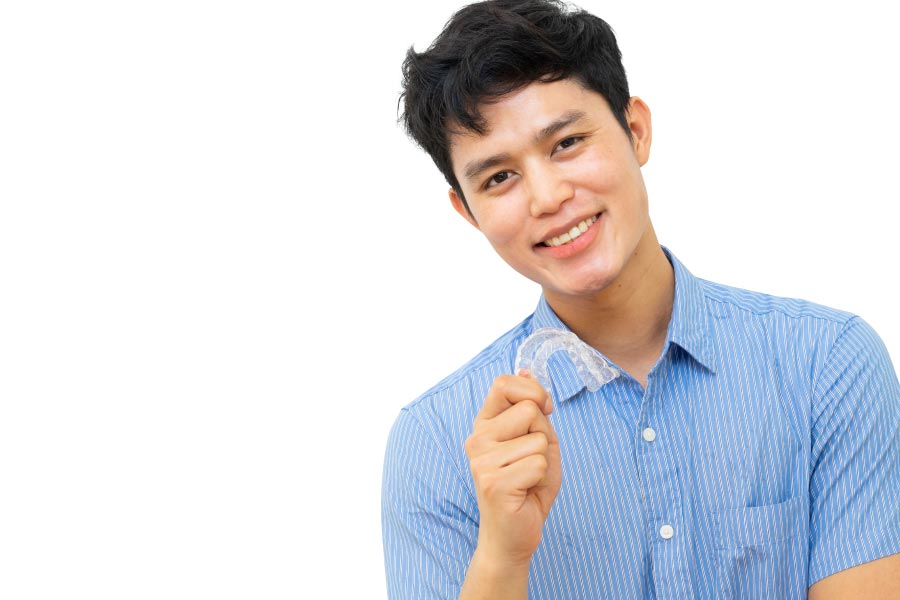 How Long Does Invisalign Take to Straighten Teeth?
December 13, 2022 5:56 pm |
---
Metal braces used to be the only method that could straighten misaligned teeth, but today there's clear aligner therapy. Invisalign is the most popular brand! How does Invisalign work? How long does it take the treatment to straighten teeth?
What Is Invisalign & How Long Does It Take?
Invisalign sets fit over your teeth a bit like a mouthguard. They're customized, so they take a few weeks to get made and sent back to our office. Every two weeks, you need to switch to the next set in your treatment as the aligners shift your teeth. How long before you have a straight smile? It depends, but the average treatment time for Invisalign is 12-18 months.
What Are the Benefits of Invisalign?
There are many reasons why people prefer Invisalign over traditional metal braces. The big benefit is that you remove Invisalign to eat and drink. You also remove your Invisalign to brush and floss your teeth, so it's much easier to maintain good oral health during treatment. Invisalign is practically invisible, which makes the trays very popular with adults who would feel self-conscious about metal braces.
How Much Does Invisalign Cost?
The cost of clear aligner therapy depends on how complex your misalignment is and how long treatment takes. If you have insurance, your plan may cover a portion of the treatment. We also accept CareCredit, which is a third-party financing option that divides treatments into manageable monthly payments.
Invisalign at Mauka Family Dental in Mililani, HI
If you've always wanted a straighter, more even smile, now could be the time to consider Invisalign! The treatment is best for mild to moderate alignment issues. In around a year, you could have the smile you've always wanted. If you have questions or want to schedule a consultation with Dr. Kim and Dr. Wee, please contact us today!
Categorised in: Invisalign Clear Aligners, Orthodontics