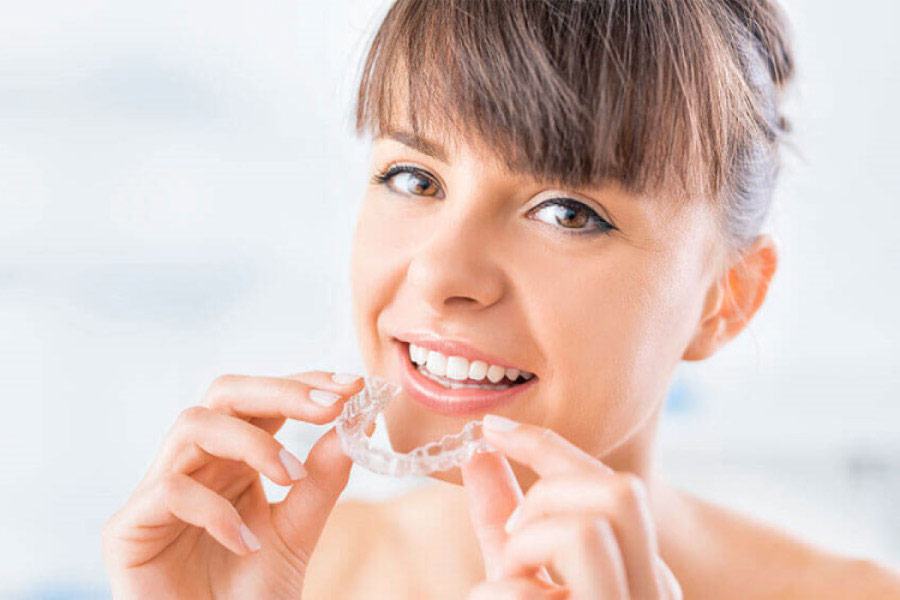 How to Clean & Maintain Invisalign Aligners
April 21, 2021 9:37 pm |
---
You don't need to resort to clunky metal braces to straighten your teeth. Invisalign® clear aligner therapy is a fantastic solution for those who want to straighten and improve the appearance of their smile discreetly. And best of all: we offer Invisalign® here at Mauka Family Dental! Read more about how Invisalign® works and how to maintain your clear aligners.
What Is Invisalign® & How Does It Work?
Invisalign® is clear aligner therapy, so unlike metal braces that are affixed to your teeth, Invisalign® involves using clear, removable trays that can shift the placement of your teeth discreetly over time.
After your first consultation with the dentist, the team will create computer-generated aligners that are made just for your smile. You can slip these aligners right over your teeth and remove them when you eat and brush and floss your teeth. In other words, Invisalign® is a non-invasive way to maintain your smile!
Every two weeks, you will receive a new set of aligners to help shift your teeth further. To make sure you're making good progress with your therapy, you will visit the dentist regularly during your treatment to stay on track.
What Does Invisalign® Fix?
Invisalign® is a great solution for alignment problems like crooked teeth, spacing or gaps, crowding, overbites, underbites, and crossbites. Invisalign® is ideal for slight to moderate bite issues, but for more advanced orthodontic issues, metal braces are a better option. Treatment usually takes place between 12 to 18 months, but the timeline depends on your individual needs.
Maintaining Your Invisalign® Aligners
Invisalign® clear aligners are very easy to maintain. Because they're easily removable, it's easy to maintain your regular diet and oral healthcare routine. When it comes to cleaning your clear aligners, it's best to soak them daily in dental crystals or denture cleaners, and then use a spare toothbrush to dislodge any particles that are stuck in the crevices of your aligners.
Invisalign® Clear Aligner Therapy in Mililani, HI
At Mauka Family Dental, we offer Invisalign® clear aligner therapy for those looking for a subtle way to straighten their smile. It is our commitment to provide affordable treatment to patients of all backgrounds, which is why we offer a variety of payment options.
If you are interested in Invisalign®, please call our office at 808-460-6922 or book an appointment online to schedule a consultation!
Categorised in: Cosmetic Dentistry, Family Dental Care, Invisalign Clear Aligners